* In the original programme this screening was to be "Mr Kaplan", but due to unforeseen circumstances that film was unavailable, so we have changed it to "Theeb".
Friday 18th March, 2016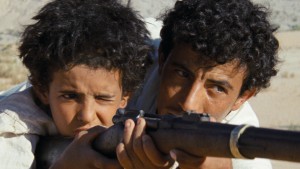 Sponsored by Special Edition Chocolate
100 mins.
Dir: Naji Abu Nowar
Jordan/UK 2014
Cert 15
Starring: Jacir Eid, Hussein Salameh, Jack Fox
Set in 1916 in a Western outpost of the Ottoman Empire, "Theeb" lovingly evokes the ancient traditions and values of the Bedouins in a land on the cusp of enormous social and political change. Our perception of this unfamiliar world is filtered through the eyes of the eponymous Theeb, the youngest of the three brothers. When a British army officer, accompanied by an Arab escort, appears at the scene, asking to be guided to a mysterious location, Theeb's elder brother Hussein agrees to take them there. Theeb, however, mischievously decides to follow them, thereby embroiling himself in a perilous and life changing adventure. Well received throughout the world, "Theeb" has garnered many awards, including one for Best Director at the 2014 Venice Film Festival and has been nominated for Best Foreign Language Film at the 2016 Academy Awards.
Download the full show notes here
Reaction Scores
[youtube https://www.youtube.com/watch?v=US3NKlGzkwg&w=560&h=315]