Whilst Lincoln Film Society is on hiatus for the foreseeable future and The Venue and other cinemas around the country are closed due to the COVID-19 outbreak, we thought we should keep community film appreciation alive through these testing times by curating a 'film of the week' series for members. These will be films readily available on Freeview TV or free catch-up services, so those without paid options won't be excluded.
Keep an eye out on our blog here, our Facebook and Twitter feeds, and in our weekly newsletters for the selected titles. Our committee members will be picking the films and sharing their thoughts. You can join in the discussion in our new Facebook group, via Twitter or in the comments section of the website.
Our first pick is Hirokazu Koreeda's After the Storm, which is currently available on the BBC iPlayer until 29th March: https://www.bbc.co.uk/iplayer/episode/m000g20s/after-the-storm
It was chosen by LFS committee member David Brook. Here's his short review of the film:
After the Storm (a.k.a. Umi yori mo mada fukaku) follows Ryôta (Hiroshi Abe), a one-time author who's now working as a private detective for 'research' for his next novel. He's sinking pretty low, divorced from his wife Kyôko (Yôko Maki), who has custody of their son Shingo (Taiyô Yoshizawa) and struggling for money due largely to a gambling addiction. When we meet him, his father has just died too. He doesn't seem too troubled by this though, at first. His dad was a loser and a swindler too, and Ryôta seems more concerned with finding any valuables his father left behind rather than mourn his death. He's determined to turn his life around though and become a better role model to his son than his father was to him, but Ryôta's vices continue to get the better of him.
After the Storm is one of Koreeda's most well-rounded films of the latter half of his career (which in my opinion isn't as strong as the first half). Where I Wish teetered close to the edge of sentimentality and Like Father, Like Son had a few blunt edges, After the Storm largely gets the balance right. There are moments that threaten to get sentimental or hackneyed perhaps, but Koreeda is too talented a director to let his film actually fall into these potholes. The 'grandma' of the piece (Kirin Kiki, Koreeda's go-to grandma character) for instance often offers words of wisdom that wouldn't look out of place on a Hallmark greeting card, but they're delivered with enough humanity to pull them off and the character pokes fun at them at one point, saying "that was deep" and suggesting her son writes it down and puts it in his next book.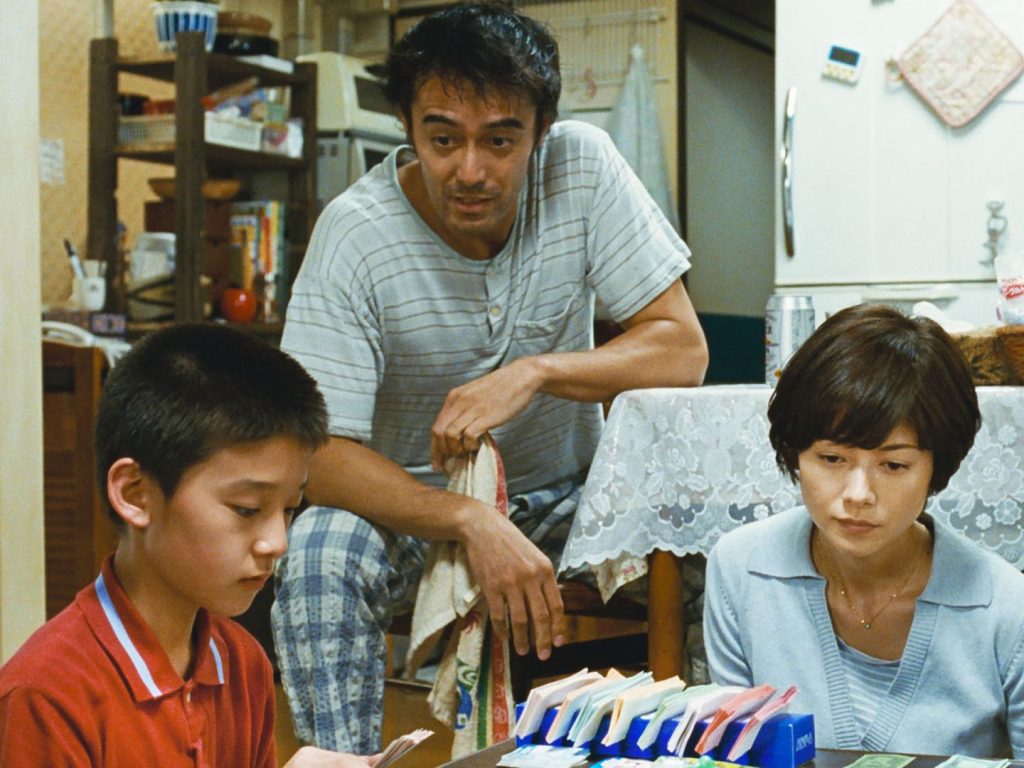 As per usual for the director, the subtle handling of drama and naturalism impresses, aided by a cast of Koreeda regulars. Abe manages the tough job of making his lead character likeable and relatable, even though he does some pretty despicable things throughout the course of the film.
Most of Koreeda's family dramas make me reflect on my own life and role as a father, but this did possibly more so than most. It made me want to be a better person as I saw some small similarities between Ryôta and myself.
This ability to make me ponder my own existence can only be seen as another positive in this fine film. Once again, it's a quietly touching drama from the director. He has such a gift for taking a simple premise and letting it naturally play out whilst still forming a satisfying narrative arc. There are moments that could have derailed the film in lesser hands, but Koreeda avoids these stumbling blocks by keeping things believable and unforced.
This review was first published at David's blog, Blueprint: Review.